Moray Firth Dolphins
Have you ever seen a dolphin in the wild? The Moray Firth in Scotland is home to a population of around 190 bottlenose dolphins, including the WDCS adoption dolphins. It also plays host to an abundance of other wildlife including: seabirds, otters, ospreys, seals, harbour porpoises, basking sharks, minke whales and common dolphins.
There are quite a few boat companies that offer boat trips that go out into the Moray Firth for wildlife spotting, but if you prefer to remain on land then there are two main places to watch for dolphins. For close up action then Chanonry Point on the Black isle is world famous. Here the Moray Firth shelves very quickly and there is a strong rip tide, this is perfect fishing ground for the dolphins and they are very close to the shore when hunting and feeding. You should be aware that because Chanonry Point is so well known, it can be difficult to get parked and there are no toilets or facilities there. The second place is from the ramparts at Fort George. Fort George is a short walk from the cottage, it's a military base built just after the battle of Culloden and owned and run by Historic Environment Scotland. There is an entry fee to get in, but Dolphin View Cottage has a pass that gives free entry for two people. There is a musuem and historic barrack rooms to explore, the elevated grassy ramparts give you a walk over 1km in length and give you a fabulous view up and down the Moray Firth, Between Fort George and Chanonry Point the Moray Firth narrows so you get lots to see. To my mind, although you are not so close to the dolphins at Fort George, you have the advantage of free parking, toilets and a cafe.
Dolphins are wild creatures, and although they are present in the Moray Firth all year, they are most active during the summer months when the salmon, herring and other prey are most abundant. The best time to see them is on a 'rising tide' an hour to two hours after the tide has turned and is coming in.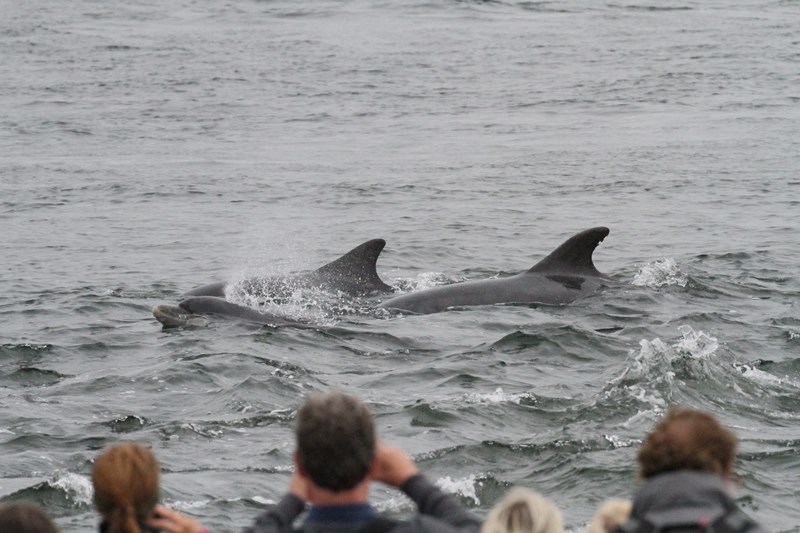 The Scottish Dolphin Centre is based on the southern shore of the Moray Firth in Scotland. It is the perfect place to find about the amazing wildlife of this area, including the world famous bottlenose dolphins.
Based at the mouth of the River Spey on the southern side of the Moray Firth on the east coast of Scotland, our centre is about an hour's drive from Inverness. Set on a 450 hectare nature reserve with exhibitions, café and shop, it's a fantastic day out!

The Centre is based in a wildlife haven that is home to ospreys, grey and harbour seals, otters, wildfowl and waders. Part of a 450 hectare nature reserve, it is a breathtaking and truly unique part of Scotland.

Attractions include:

• Our Underwater World experience, in the biggest Ice House in Scotland
• Extensive education and outreach programme for children and schools.
• Walking on the beautiful Scottish Wildlife Trust Reserve
• Watching otters, ospreys, seals and other local wildlife
• Listening to live underwater sound from the sonobouy and exploring the acoustic exhibition
• Café Wild; relax and unwind with delicious homemade cakes and a cup of tea
• Gift shop with a fantastic selection of souvenirs.
• Spot some of the biggest bottlenose dolphins in the world using our binoculars and telescopes
Telephone: 01343 820339
Dolphin Boat Trips
As the dolphins follow the tide to feed on fish you can often see them in the channel between Fort George and the popular viewing point at Chanonry Lighthouse on the Black Isle. You can also take boat trips, please make sure that the boat operator is responsible and is approved as Wildlife Safe Operator - one such company is http://www.dolphintripsavoch.co.uk/ based at Avoch harbour.
From Inverness - Dolphin Spirit, a purpose built boat for up to 75 passenders on two decks, with a heated inside cabin. park at Inverness Marina, cruise duration is 1hr 15 minutes with four sailings each day from April to the end of October, Well behaved dogs welcome. Visit www.dolphinspirit.co.uk, or call 07544 800620